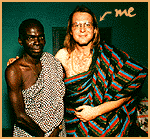 My name is Ethan Zuckerman and, amongst other things, I'm the VP of Research and Business Development for Tripod, Inc. Near as I can tell, that means that I'm responsible for coming up with neat ideas for projects that Tripod could undertake in the next few months or years. At the moment, that means playing with a variety of server-side enhancements which make Tripod more fun for registered members. I have no idea what I'll be working on a few months from now, and I think that's part of the enjoyment of the job. If you've got brilliant ideas about the future of the web or a project you'd like to pitch to us, please feel free to drop me a line.

I live in Williamstown, MA, with the rest of the Tripod crew. More accurately, I live in a surprisingly small apartment with my fiancee Rachel.

Since I websurf for a living, I like to spend as much of the rest of my life in RL as possible. To that end, I study Ishin-Ryu karate, where I get to punch and kick lots of solid (non-virtual) things. Ishin-Ryu is a Okinawan style of karate, developed in the 1940s from three much older Okinawan styles (Shoinryu, Gojiryu and Naha-te) by Grandmaster Shimabuku. The style came to the United States after WWII and has spread rapidly throughout the country. I study with Sensei Steve Buschman in Warehouse Point, CT - if you live in the area north of Hartford, CT. and are thinking about studying a martial art, please send him some mail.

I also spend a lot of time brewing beer. (And drinking beer - it's a nice complement to studying karate.) It's got a lot of the satisfaction of baking bread with longer lasting results - there's something very satisfying about discovering a bottle of brew you capped six months ago and finding that it's gotten better with age. I'm hoping to write something for Tripod in the near future about getting involved with brewing, including instructions on how to do your first batch for under $50. Keep looking at the homepage and see if I get my butt in gear.

About the picture - a couple of years ago, in what feels like a former life, I spent a year in West Africa studying drumming styles of the Ewe people and xylophone styles of the Dagadi peeople. I'm pictured with a friend from the village of Djolo-Gbogame, in the Volta Region, where I was visiting a friend who was crowned Queen Mother of the village. I miss West Africa a lot and find myself searching for ways to combine my Internet interests with my desire to return there. Perhaps there's a need for some sort of techie version of the Peace Corps, where the US government sends burnt-out geeks to the developing world to install Cisco routers. Sign me up!