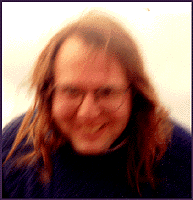 Ethan Zuckerman
ethan@tripod.com
63 Park Street
Williamstown, MA 01267
USA
---
Wow, it's been a while since I've updated this page. But hey, now it's linked form the MOO, so I've got to be sure it's fresh. Hey, if you've yet to check out the MOO, head on over to trickle.tripod.com and take it for a test drive. Enjoy.

---
Albums of the week -
Baaba Maal - Firin' in Fouta Senegalese pop god makes a seventeen-piece combo sound as tight as early Bad Brains. I'm especially fond of Swing Yela, a slammin' track that, near as I can tell, is about human frailty. Whatever- it's gorgeous. 1994, Island Records

Zillatron - Lord of the Harvest Bootsy Collins is fairly unpredictable lately, but this album is consistently amazing. Very, very silly, but amazing. Check out Bootsy and the Beast and listen close for the cattle mutiliation references...1993, Polystar

All audio links are Real Audio. Check out www.realaudio.com if you don't already have the RealAudio player.

Cool Links
How to Tell the Birds from the Flowers
A wonderful book that from someone's childhood that he's chosen to share with the world. And we're all much happier since he did.
Soccer Riot Magazine
Not very much about soccer riots, but don't miss the section on Computer Manual Excerpts. Probably the coolest web 'zine I've seen thus far.
The Dysfunctional Family Circus
(Wonderfully funny, but not for the easily offended).
Books On-Line
This site at CMU makes the library obsolete - assuming the book you want to read is one of the 800 that they've got a link to. Browse for a few hours here and you can find some amazing texts.
The Temporary Autonomous Zone
Poetry/philosophy/manifestos from mastermind Hakim Bey. God, it's good to see someone writing creative philosophy...
The Curious Hat
Just in case you missed it from the random button...
---
This page wasn't created by the Tripod Homepager. It was created by hand. Pretty soon y'all will be able to upload hand-made homepages. Hold your horses.