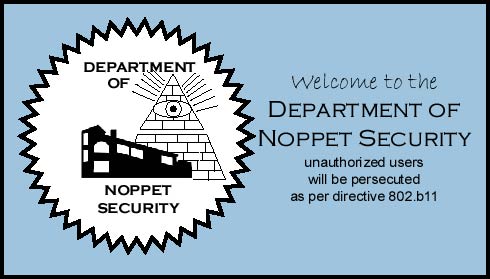 PROJECT NOPPET BRIEFING - EYES ONLY

Attention all operatives. As mentioned in a previous communique, Project Noppet '02-'03 is a go. Proposed timetable for operations follows:
12.28.02 1000 hours: Operatives begin arriving
12.28-30.02, all hours: Range of strategic activities including mask-making, trebuchet construction, gingerbread house construction and decoration, hikes, walks, art projects, backrubs, hot-tubbing/sauna use, game design and gaming, etc. Precise schedule is classified and will be revealed over the course of the operation.
12.30.02 2000 hours: Shakespeare Night (live reading; play to be selected in advance; see below, under "Advance Preparations.") Other special operations TBA.
12.31.02 1900 hours: Operation Masked Ball. Potluck dinner, dancing/drumming, games.
1.1.03 1000 hours (or whenever we wake up): Invasion commences. Or breakfast, whichever seems most prudent.
1.1.03, all hours: Continuation of strategic initiatives, at the discretion of HQ staff (see below).
1.2.03, all hours: Operatives depart
Essential gear: A sleeping bag and pillow. Night vision goggles. Warm clothes. Any games you want to play. Ammunition. Something festive to wear to the masked ball. A mask, if you have one. (If not, you can make one; bring anything you might want to sew or glue to your mask.) Allergy medicines if you're allergic to Agent Thorn. Accordions and other musical instruments. Malaria prophylaxis.
Headquarters Staff: While Agents R and E manage the safehouse, Project Noppet will succeed or fail as a team effort. Your participation, especially in the creation of strategic initiatives, is essential. Your mission, should you choose to accept it, is to design and lead one or more strategic initiatives during the duration of Project Noppet. Possible initiatives include snowball forts, an art project, a game or one-shot campaign, baking cookies, storytime, invasion of neighboring towns, construction of siege engines or puppetshows. Plan to pack in appropriate supplies, and feel free to instigate your operation at any time. Bear in mind that operatives will be multitasking over the course of Project Noppet, so you probably won't get everyone interested in any given operation.
Mess: In lieu of MREs, agents are requested to collaborate on cooking over the course of the festivities. Plan to bring or cook a dish for the potluck on the 31st (bearing in mind that the safehouse only has four burners, one oven and a single BAS - Big Ass Smoker), and/or claim a different meal to steward. Agents R and E especially request that someone(s) claim dinner on the 30th, and breakfast on the 1st.
Advance preparation: Communicate your intentions via secure channel to Agent R and Agent E. If you have items for the Hot Tub Reader, send them to Agent R, who will laminate them. Please communicate suggestions for Shakepeare night, including alternatives to Shakespeare, to any of headquarters staff. If your strategic initiative will require HQ support (requisition of liquid nitrogen, need to construct a 100sq meter helipad, etc.) please alert HQ in advance.
Masked Ball: At 1900 hours on 12.31.02, the briefing room of Project Noppet HQ will be opened for the masked ball. Ball includes a potluck supper, dancing to live and recorded audio sources and the ceremonial lowering of the yellow bell pepper. Please bring mask, or be prepared to construct one prior to 1900 hours. Operatives are encouraged to record appropriate audio sources to compact audio disk in order to enhance the masked ball experience.
Contraband: The television and its attendant machines will be considered off-limits for the duration of Project Noppet.
Logistics: It is the responsibility of all agents to make appropriate arrangements for their transportation to and from HQ. Shuttle service via MPV (multi-passenger vehicle) from Albany Airport or Pittsfield bus station can be arranged through HQ via email or through the transportation hotline: 413-441-3380. (Hotline will be in service from 12.28.02 - 1.2.02 - for logistics information prior to those dates, please make arrangements through secure text channel. Feel free to contact HQ for information on other operatives who might be able to share transport to HQ.
For agents who are able to travel to HQ under their own power, the following guidelines are provided: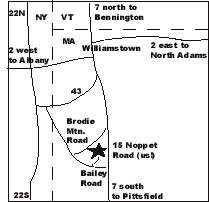 From NYC and Points South: Take the Taconic Parkway to Rt. 22. Take Rt. 22 to Rt. 43 East. Turn right on Brodie Mountain Road at the sign for Jiminy Peak. Watch for snipers atop Brodie. If clear, turn right onto Bailey Road after the Lanesboro sign. Turn left onto Noppet Road. HQ is the last driveway on the left.
From Albany Airport: Take 87 South, to 90 East. Follow the signs for the Deefreetsville exit onto Route 43 (Exit 8, we think…) Take 43 into Massachusetts and follow the above directions.
From Williamstown and points north: Take 7 South past Brodie ski area. Turn left onto Brodie Mountain Road. Take your first left onto Bailey, then left onto Noppet. HQ is the last driveway on the left. Caution - The Store at Five Corners is a known opposition stronghold. Exercise extreme caution when stopping to purchase fudge.
From Boston and points east: Take the Mass Pike (Rt. 90) to Exit 2. Follow 20 East through the town of Lee, until it meets Route 7. Take 7 North through Pittsfield. About 10 miles north of Pittsfield, 1 mile past "downtown" Lanesboro, turn left onto Bailey Road. (There will be a minigolf course, and a "Vacation Village" visitor ceneter, on the other side of the road. If surveilance is not present, you are authorized to bomb Vacation Village. If you pass Brook's Pub on the left, you've gone just slightly too far.) Take your first right onto Noppet Road. HQ is the last driveway on the left.
Transmission ends. Direct questions to Agent E. PGP key follows.
-----BEGIN PGP PUBLIC KEY BLOCK-----
mQGiBDzyX00RBADqtQ+nohfJQexPcqYaJpua6n4IIMCpDpxvc0GXk/D+kqPvWyhtxPcs2bKixzevMkVcArnm1Qmej105TuOiIk9/85of1X2qcpywTqe4Rp75No2An5mUhFL+eEia3o8YCDfFZqeLeDpxlCXXOgfY+zRF7uCMqksl9+XfCY6lEv857wCg/wYWnMQokOAYsDhfRUPZKL1GA20D/i/CNx1G8SED3Lw/8lgEQb5N2T48XFXubAa2nmRs140NMtnN8jrk2TTHMnIKt8fB3ClS0kbl6DzwfmE0xyiYhW0pYEJW7ebOZEwHwZCt9w15Zl4YZwqBw1gOyZpAXhrHbSirUwi0thXcTAuzbs6pKzzNr+kdwYnlIzl3CpnSFVjfBADLHZGzsZHGcQL5Y9TZND6AwS8sDNGREgmOpxVvPVUpOWy2QdaJB2r0ieRuopQNNk/PaWYBRyYBjNptZ8wrEcfnTr4qpDpFd9F4PMLQiP1KgsSDHctn1+gq8Ns6eUGH9JD5t8CeBJMvowhz/vlhPfnQ7dikkjl0Wk/g6+NOnwsTfbQlRXRoYW4gWnVja2VybWFuIDxldGhhbkBnZWVrY29ycHMub3JnPokATgQQEQIADgUCPPJfTQQLAwIBAhkBAAoJEL4IoWyYeVaGF+IAoO6XzWraNcF5RPdIqIP0VP5fgEI8AJ4vKDdJJji0RdikI8AbzgmcWtCqe7kCDQQ88l9NEAgA9kJXtwh/CBdyorrWqULzBej5UxE5T7bxbrlLOCDaAadWoxTpj0BV89AHxstDqZSt90xkhkn4DIO9ZekX1KHTUPj1WV/cdlJPPT2N286Z4VeSWc39uK50T8X8dryDxUcwYc58yWb/Ffm7/ZFexwGq01uejaClcjrUGvC/RgBYK+X0iP1YTknbzSC0neSRBzZrM2w4DUUdD3yIsxx8Wy2O9vPJI8BD8KVbGI2Ou1WMuF040zT9fBdXQ6MdGGzeMyEstSr/POGxKUAYEY18hKcKctaGxAMZyAcpesqVDNmWn6vQClCbAkbTCD1mpF1Bn5x8vYlLIhkmuquiXsNV6TILOwACAggAqHzWOujhQV4auCzXUMfJtovB0tbpYDM0L18HlkKZWIU5AQ+76SrcFFyGt6hGpRezMTtdcGYDPTSzAeMW/LsESeaXeXvCJe1BQzJzlmRIqJFYToZjIfE0mQse8sgN9Sp8/YDs0FZ3gpTXq1lHvJPnWQ6hGM24pAlgtU6HoGOuMk4Iy543alGp5IDBTrgw9rkJi6rLg1vAmUQXYGvL6kaaGCVXi8IT8m9NFUDu79nxpOKOBTKeFonqx6tTo7prrCFVtniyYX9/ZmRL4BNZxr3yk6/Hgiesxb672d9/d12FVyqtPl+krC1rGYz2vrnwyCKOqI8JeLrHcIVe8MLpSWmHKIkARQQYEQIABgUCPPJfTQAKCRC+CKFsmHlWhtc8AJ9Ziye0fVL1UTwiYH9dnJevKFlvawCXZ8HbnqgGawxxWB9tSl712S3glw===WoBg
-----END PGP PUBLIC KEY BLOCK-----