When Flat Stanley came to the Berkshires, he kept telling us he wanted to see a baseball game. But in February, it's too cold and snowy to play baseball. So he asked us, "What do you guys do for fun around here?"

"Well, Flat Stanley, usually we go hiking."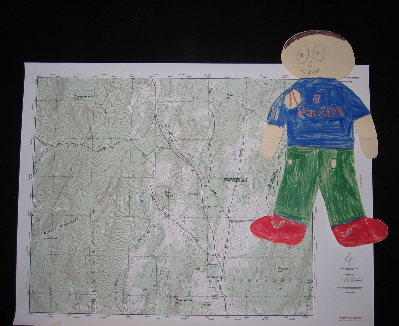 Flat Stanley learned that Mt. Greylock, located in the middle of Berkshire County, is the tallest mountain in Massachusetts. It's over a kilometer tall - 1,034 meters or 3,491 feet. It's part of the Appalachian Trail, a footpath that leads from Maine to Georgia. Flat Stanely learns how to read a topographical map (usually called a topo map) to figure out how steep the hills are.
Flat Stanley went to the Visitor's Center to check the trail conditions before heading out. Because of the snow, the rangers recommended using snowshoes to make it to the summit. Without snowshoes, hikers sink into deep snow and find it difficult to walk.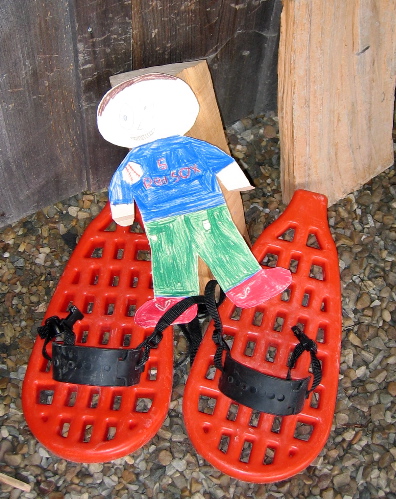 Unfortunately, we couldn't find snowshoes that would fit Flat Stanley, so we stayed at lower elevations, where the snow wasn't so deep. About a mile into the hike, Stanley noticed metal buckets hanging from some of the trees. "Why did someone hang buckets on the trees?"
"Well, Stanley, we cut holes in maple trees so that the sap drips out of them. We collect the sap in buckets and boil it down to make maple syrup."

"Wow, can we see how that happens?"
So we went down the mountain and to Ioka Valley Farm in Hancock, MA, where the farmers boil sap into syrup.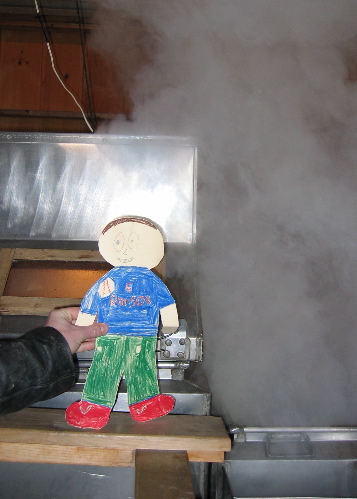 The farmers gather hundreds of buckets of sap, and boil it over a wood fire in a metal kettle called an "evaporator". It takes hours to turn the sap into syrup and lots and lots of wood to keep the fire going.
Years ago, Ioka Farm was a dairy farm, but now it grows pumpkins and makes maple syrup. Now the only cows here are flat, just like Flat Stanley.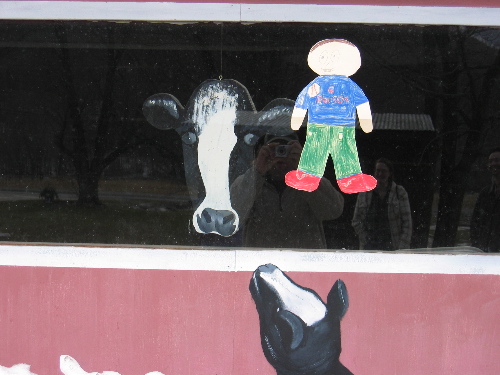 After such a busy day, Flat Stanley was pretty hungry. So we went inside and had a big breakfast of pancakes with fresh maple syrup. Yum!